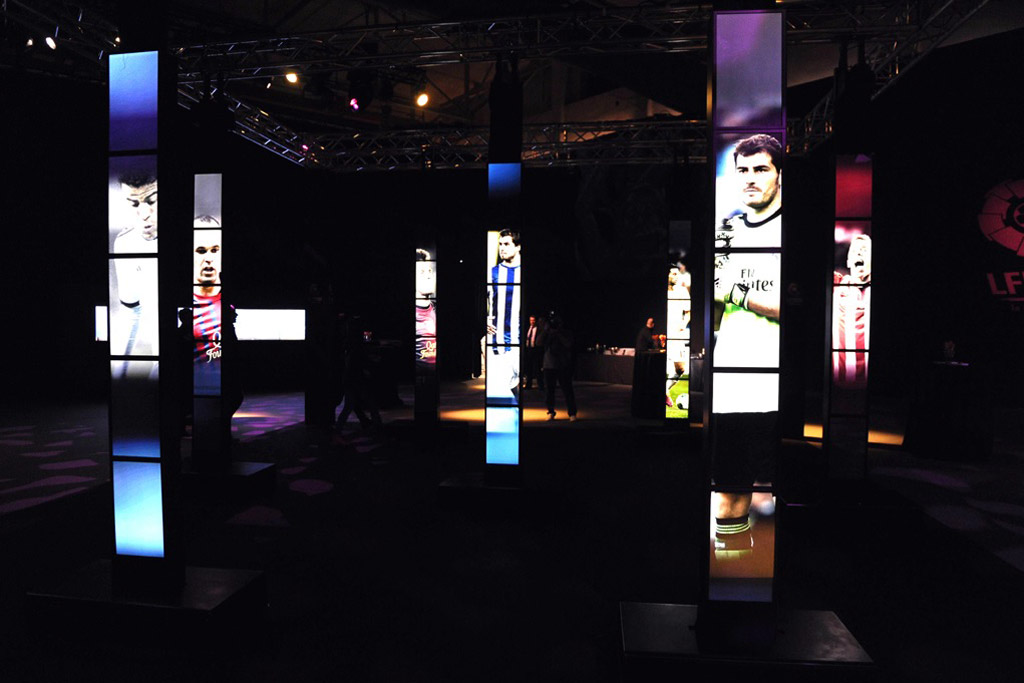 LFP World Challenge
Great interactive audiovisual installation consisting of a 4 × 1 Samsung videowall, seven totems, making up a total of 70 vertical screens, and a projections show made by Panasonic equipment.
On the occasion of the presentation of the LFP World Challenge project, held on March 6th at the Mansion of the Dukes of Pastrana in Madrid, the Spain Experience was organized. It's an interactive exhibition doing a full deployment of audiovisual techniques for this occasion.
The whole set up was composed of an interactive video wall, seven digital totems and two large screens where videos that referred to the event were projected, the LFP World Challenge.
The videowall showed a format of 4 × 1 and consisted in some Samsung touch LED screen UE55 of 55 inches, which provides a resolution of 1920 × 1080 each, achieving a final resolution of 7680 × 1080 pixels, a brightness of 700 cd / m2 and contrast 5000: 1. This videowall showed information about the participating companies, athletes and projects related to the LFP World Challenge.
Despite the spectacular videowall and that attendees could customize the content they wanted to see, the central area was the most striking one of the Spain Experience, due to the installation of seven digital totems, each one of them integrated by five vertical and double-sided screens.
In total, for this set of totems connected together through an Ethernet network, there were used 70 LCD LED Full HD 22-inch Open Frame touch screens. Each column had installed a sound system with an RCF two-way active monitor, with 6″ 50W + 25W autoamplified.
An area that invited attendees to interact with the displays and find the faces and testimonies from individuals linked to soccer and professional soccer league, as well as a series of content data and information related to the potential of LFP and their clubs.
This audiovisual display was completed with an audiovisual projection system, with content created especially for this event, done with Panasonic PT-DZ10KE, 3 Chips DLP WUXGA (1920 x 1200) systems, 10,600 ANSI lumens and a contrast 10,000: 1.
The video tracks, the live camera and different logos were managed with the Dataton Watchout production system; while for voicing the K-array KR402 system, consisting of two amplified KMT21 subwoofers with two channels of 2,400 watts each, which fed four straight KP102 columns with 12 neodymium speakers of 3.15 inches each was used, and a total of 48 speakers.
The content of the totems and the videowall was supplied through a digital Full HD video signal from AT 8HD Dual Xenon Server 4005 server.